The Mineral Wells Aviation Business Center was established to attract aviation-related businesses to facilities, tarmac areas and raw land that are available for lease at the Mineral Wells Regional Airport. While the Center actively markets all of the available properties on the airport, the photo below illustrates the primary area identified as the Aviation Business Center.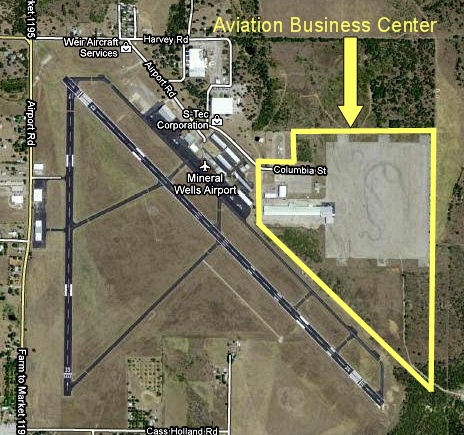 The airport is ideally suited for aviation businesses:
Located just 26 miles west of the DFW Terminal Control Area – no congested, crowded airspace to hamper operations.
Full-service FBO – discount fuel programs offer low prices on AvGAS and Jet A.
6000' x 100' lighted main runway with ILS
4400' x 100' lighted runway
VFR flight conditions more than 90% of the year
Main runway can support Boeing 737, DC9, Lockheed Hercules C130 and other similarly-sized aircraft.
Over 100 acres of prime airport property is available, plus already-existing hangars, tarmac areas, manufacturing facilities and office space
All of the tools of the big DFW Metroplex airports without the high prices and hassle!
The purpose of the Center is to develop the airport into the most effective aviation business facility west of the DFW Metroplex – the place to grow your business!
Several business sites and hangars are available for lease. See our Hangars for Lease.
The Aviation Business Center staff is ready to assist you with your lease, any necessary customization of your facilities and new construction. They will also help with your move-in and set-up for operation. The airport marketing program will support your other marketing efforts to create more sales.
In addition to the above, the Center offers more benefits to new aviation businesses:
Lower facility costs than DFW Metroplex locations
Lower operating costs than in the Metroplex
Special incentives provided by the City of Mineral Wells during the first years of your operations
Opportunity to join forces with synergistic businesses to participate in multi-discipline projects as a member of the Mineral Wells Aviation Associates organization
Prime business locations are still available for new tenants at prices below those typical of Metroplex airports – on the best airport and in the best Aviation Business Center on the west side of the DFW Metroplex. There's still time for you to "get in on the ground floor."

Mineral Wells Aviation Business Center - Overview for Prospective Tenants